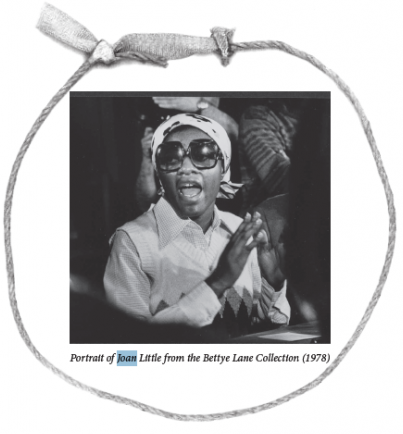 Joan Little
The wind in Washington County carries.
No one keeps to themselves. Rumors
soil. A caterpillar looks like a worm,
and a worm, like a snake; fact is everything that crawls ain't looking
to be a butterfly. But, why
take a garden rake to a bird? It's no secret, cops welcome a reason to kill anything.
Ask the people they cage.
Only crows bred in captivity collect
things. Corvids, they say – nature's
compulsive hoarders. What
is a jeweled ring in the beak
of a thief? A confession. What
they come to call a hoard of crows? A murder. We are not the only ones to speak over our dead. How she carried on at her window, feeding the fowl first.
This kept guards in stitches.
In the light of day, one jailer
rakes the rails of her cell until they bleed
mercy on the edge of an icepick. The one
he stores in his desk. Even when she caws, he enters.
A man ever reach his dick for you?
Between the bars, his hand forcing
his worm forward, you running backwards, waving
no, your fingers loose like laces, barricading
what you see as precious? His whispers
scrape the curves of Joan's
crooked nose. His semen, a stain
lifting each of her feathers.
Joan Little
[Born in 1953-unknown]
Born and raised in Washington, North Carolina, Joan was the oldest of ten children and was their caregiver until she was able to find work picking tobacco and waitressing. She graduated high school in Philadelphia. Joan spent short times away from North Carolina, but always returned home. She knew how to take things without paying for them.
She was arrested many times.  On August 27, 1947, she stabbed Clarence Alligood with an icepick in self-defense. Alligood used the icepick to threaten her life as he raped her. Joan maintains that she didn't kill him, she just defend herself in an attempt to stop Alligood from raping her again. Two other women inmates were also his victims. They testified on Joan Little's trial. She was charged with first-degree murder. In a highly publicized trial, Joan Little was not found guilty. The a capella group founded by the freedom singer Bernie Johnson Reagon, Sweet Honey in the Rock, wrote a tribute to her titled "Joanne Little" (1976).